Here we will hold a listing of Budoakn Black Belts, Teachers, Dojo Leaders and Students who have passed away.
An asterix will be shown against their names on the Budokan Black Belt Register, signifying that they have passes away and their names will appear here.
​
If we hold any biographical data in text, pictures, audio or video then the relevant persons name will be underlined and by clicking on that name, you will be taken to a special page dedicated to that person and his or her biographical history with Budokan.
Please send us a picture and any relevant information we can verify against anyone listed on this page and we will post it up forever.
​
Budokan also has many individuals to remember for their unstinting contribution to Japanese Budo that they made, often with great personal sacrifice during their lives.
This page will honour them too, for whom all of us connected with Budokan, shall be forever grateful.
We shall always remember them.
WHITEY POLLETT
WILLIE RIDDEX
DUNLOP PAUL
VIC SYKES
JON WYATT
LEO LIPINSKI
FRANK VAN RENSBURG
BOB SIMMS
DOUGGIE KNOX
SANDI GROOM
CLIFF LAWRIE-ROSS
MIKE BOND
CAROL LEVY
HERBIE EDWARDS
HENNIE VAN DER MERWE
NEIL CRAFFORD
AMADEO NUNES
HAROLD LIND
JEAN RESCH
JULIE TULLIS
ANDREW BROWN
BOB ALLAN
TREVOR HUGHES
IAN CARD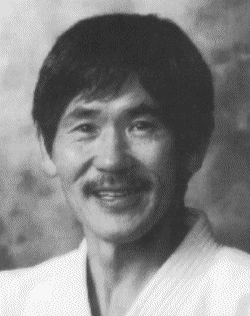 KANETSUKA SENSEI
passed away on
8 March 2019
It is with great sorrow that we bring you news of the passing of Vic Sykes on the morning of Sunday 14 August 2016- after complications had arisen following a triple heart bypass operation in Durban South Africa.
A well known and much revered member of Budokan SA, Vic became a highly skilled Karate practitioner and a great teacher.
He is left by his lovely wife Moira and their son Clinton.
Vic Sykes - far right - attending one of the many Budokan events in sunny Durban.  His wife Moira is facing away from the camera in the foreground.
On the far right - sitting down is Pam - the wife of the late Ray Ryan - one of the Co-Founders of Budokan SA.
In the centre of the pic at the back is Derrick Wridgway, whom Budokan UK students may recall visiting us at one of our workshops with his lovely wife Sylvia 5 years ago.
Other people Sensei Passmore recognises are Mike Bond seated in the middle and Alan Haig - standing in between Derrick and Vic at the back.
OKIMITSU FUJII passed away on
10 April 2017
It is with great sadness that we hear of the passing of Fujii Sensei - a much loved and highly respected teacher of Japanese Budo - with just a slight penchant for Kendo.
Many Budokan students would have fondly rembered Fujii Sensei at the Traditional Japanese Budo events that were held in the magnificent Dome at the University of Derby Buxton, where this picture of him was taken in 2014.
We are saddened to hear of the passing of Victor Harris who is famous for translating Go Rin No Sho by Miyamoto Musashi - A Book of Five Rings - a master class of strategy that should be in all Japanese Budo students bookshelves. The philosophy behind it is influenced by Zen, Shinto and Confucianism, and came to be used by many corporations around the world, especially in Japan.
The cover below shows an 1848 print of a picture by Kuniyoshi, showing Miyamoto Musashi practising fencing with two sticks, which became the hallmark of his technique and sword style.
RIP
It is with great sadness, that we have to post the news that Len Blunt, a former student of Budokan and beloved Father of one of our Dan Grades, Alex Blunt, passed away in Oakhaven Hospice in Lymington, after a pretty long battle with prostrate cancer.
Len was a gentle soul and was much loved by all who knew him and had the pleasure of spending some time with him.
He will be much missed by us all
RIP